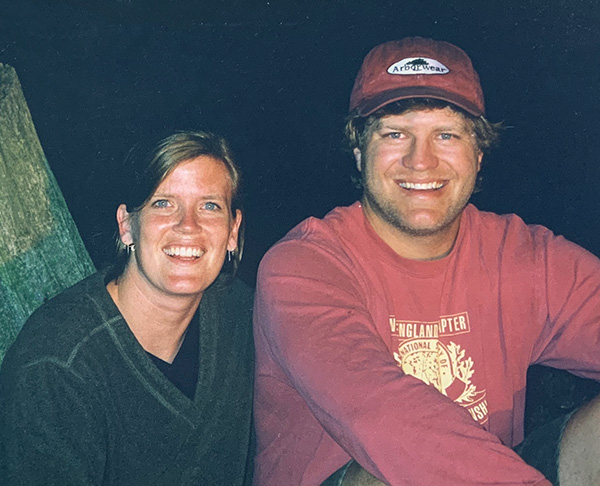 Mal and Paul have been married for 18 years. They used to be regular eaters, pretty healthy at times, but not all the time. That is, until Mal's otherwise healthy, vibrant and active mom was diagnosed with stage IV lung cancer out of the blue. Mal did what most women do when something like that rocks your family: she got busy. After scouring the internet, binge-watching Forks Over Knives and What the Health on Netflix, and conferring with her friend and plant-based guru, Jane, she came to realize that there was something to this plant-based eating thing. Among others, guys like Dr. Colin Campbell had shown that animal proteins are directly linked to cancer cell growth. Go figure.
So, she went plant-based and convinced her mom to as well. Then, an amazing thing happened. After a year on a plant-based diet while going through treatment, Mal's mom's cancer stopped growing. Even the doctors were shocked.
Meanwhile, back home, Paul was a meat and potatoes guy, with the palate of a toddler and a deep disdain for onions, peppers and mushrooms. To Paul, corn was about as sexy as his veggies got. He considered ketchup a gourmet dipping sauce and if he lived alone, the only spice in his kitchen would be Lowry's seasoning salt. But, Paul loved Mal. So, he started to change a bit, adding a few new veggies to his repertoire here and there. He knew plant-based eating was best for his health, the planet and for general animal welfare, but could he ever really be fully plants only?
Mal and Paul had these vegetarian friends, Brian and Jane, who had been eating this way for more than twenty years…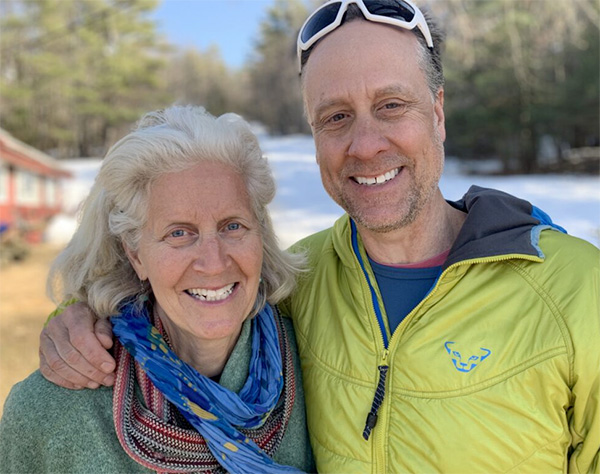 Jane and Brian have been hitched for 22 years. When they first met they were both tree hugging vegetarians. Of course, back then that still meant chips and salsa, cheese pizza, and plenty of vegan junk food… plant-based, but not so healthy. Jane's dad, Caldwell Esselstyn, Jr. MD, had been studying diet and disease prevention at the Cleveland Clinic since the 1980s. By the late 1990s his research could prove that it was possible to not just prevent, but also to reverse cardiovascular disease, as well as other morbidities, with a whole-foods, plant-based diet. So, by 2000, Jane and Brian were total converts to the whole-foods, plant-based way of life.
With Essy's guidance, they learned the transformational power of plant-based nutrition. In fact, all three of their kids were raised vegetarians. In the next ten years, Jane went on to write a number of plant-based cookbooks with her brother, Rip, and her mom, Ann. A couple were best sellers. The plant-based way of life had become core to their life and Jane's business today is dedicated to educating and promoting the plant-based lifestyle through annual events and her ever popular YouTube cooking videos featuring her mom.
And, they had these dear friends, Paul and Mal, who had been dabbling with going totally whole-food, plant-based. While Mal was all in, Paul still had some discipline issues…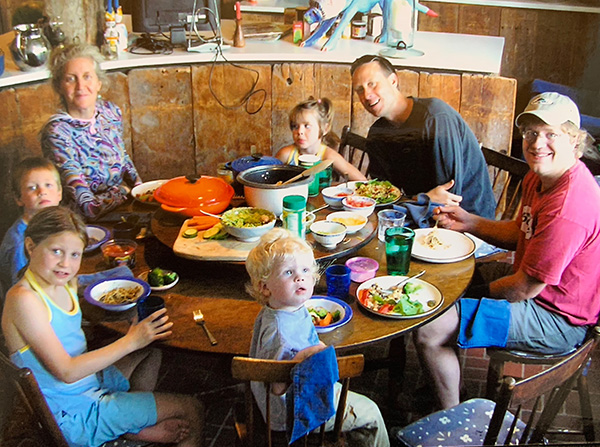 Mal, Paul, Jane and Brian had been friends for years, a friendship that sometimes felt more like family… even their dogs, Zeke and Fraser are brothers. When their kids were young, they gathered regularly for beans and rice feasts, hikes, swimming and family games. Throughout the years, Brian and Paul got together to play guitar and loved collaborating on projects and putting up firewood for the winter.
Many times, their conversations touched on diet. Paul had added a few inches to his waist and was hoping to get back to his fighting trim sometime soon. After a number of on again, off again plant-based experiments, Paul had come to realize that this way of life brought results. And, what's more, he felt great when he did it. But, still… was he ready to commit to plants only?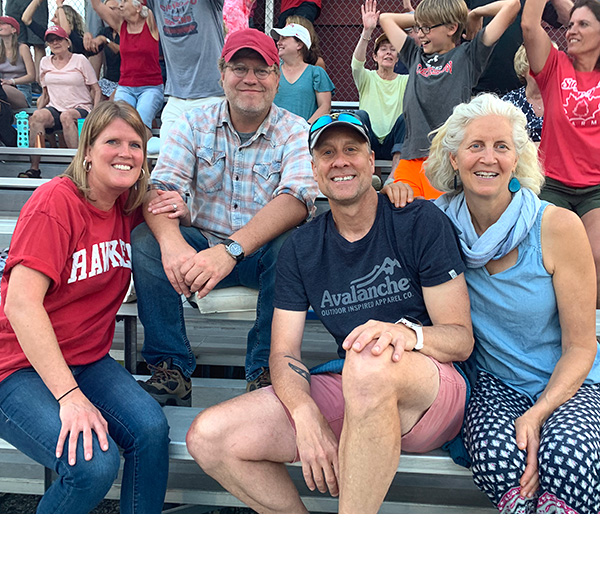 Meanwhile, the plant-based movement was growing by leaps and bounds every day. I mean, even Walmart carried oat milk now. The tipping point was happening. 
Brian and Jane had been selling "plants only" kitchen items, baking kits and t-shirts since 2016, but with all the other things they had going on, they never seemed to have enough time to meet the growing demand. That's where Mal and Paul came in… with backgrounds in marketing and business and the desire to live and promote a plant-based lifestyle, this "Plants Only" partnership was born.  Now, we have our roles: Mal is the organizational guru, Jane is the spirit and drive, and Paul and Brian are the designers and woodworkers.
Remember, every product purchased keeps Paul on the straight and narrow! From our workbench to your home, Plants Only is a brand we are proud of, a way to represent your commitment to the plant-based way of life and all that it has to offer.